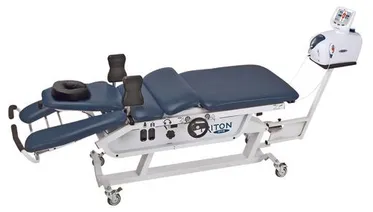 Spinal Decompression in Charlotte, NC
Back pain due to a herniated or bulging disc can be debilitating. We use a technique called spinal decompression to clear up back pain and also any pain caused by the pressure put on the nerves.

There are actually two different kinds of spinal decompression: surgical and nonsurgical. I have utilized the nonsurgical method of spinal decompression in Charlotte over the years, which have proven quite effective.

The patients who benefit from spinal decompression are, according to Spine Health, those with bulging or herniated discs and neck pain. It's also useful for patients suffering from pinched nerves in the neck and lower back. Ultimately, this kind of therapy is traction therapy, meaning it functions to pull apart the vertebrae in order to allow bulging/herniated discs a chance to squeeze back into place, and to allow an influx of nutrient-rich spinal fluid between vertebrae. This spinal fluid influx creates a healing environment that is usually not possible when vertebrae are too close together.
How Often Will I Need Spinal Decompression in Charlotte?
Treatment time and frequency will depend on each patient's unique condition; however, each spinal decompression treatment is usually about twenty minutes. Patients usually have treatment a few times a week, and are typically finished with treatment within eight weeks.
If you are living in pain from a herniated or bulging disc, we will work with you to find a spinal decompression treatment plan that corresponds with your body. Instead of turning to dangerous pain medications that just cover up the problem, ask us if spinal decompression can help you.